Experts Mission of initiation of the Regional Statistical Cooperation  Project  "Statistics through the Eastern Partnership" visiting NBS
Between March 18-21, National Bureau of Statistics (NBS) hosts the Mission of initiation of the Regional Statistical Cooperation  Project  "Statistics through the Eastern Partnership" (STEP). The project was launched by the EU Statistical Office (EUROSTAT) which is funded by the EU and will last  34 months. Priority directions concerns economic statistics, social statistics, statistical management on the organization and management of the national statistical system, quality, human resources training and user relations in the Eastern Partnership countries (EaP), namely: Armenia, Azerbaijan, Belarus, Georgia, Moldova, Ukraine.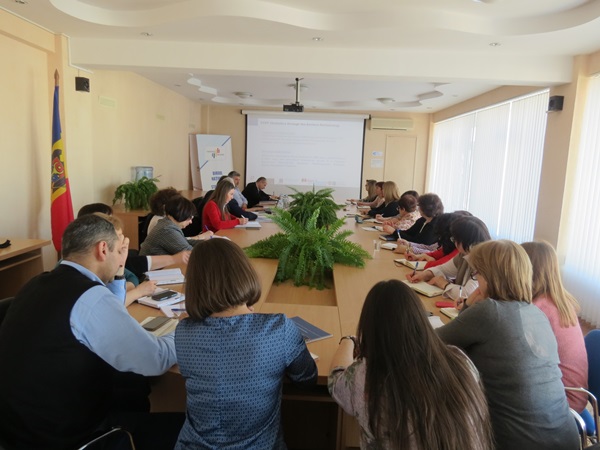 The team of project experts will be represented by Mr. Jean Paul Blandinieres - Team Leader of STEP, Mr. Thierry Coulet - Main Expert in Macroeconomic Statistics, Mrs. Gereltuya Altankhuyag - Main Expert in Social Statistics, Mrs. Beata Susterova - Project Leader, Mrs. Angela Gusnak and Mr. Florian Bodin - Project Managers.
The overall objective of the project is to strengthen the statistical evidence base through more and better quality official statistics produced in the EaP countries, in line with the European Statistics Code of Practice and the objectives of the EaP. One of the goals is to improve the production and dissemination of qualitative statistics in the ENP countries. It also aims to increase the level of harmonization of the methodology both between countries and with the EU, strengthen the institutional capacity of the national statistical offices in the region, and also support the development of evidence-based policies by improving collaboration and coordination between national statistical offices, policymakers and related institutions.
The initiation mission within the Regional Statistical Cooperation Program is an important step in implementing the STEP program. During 4 days, STEP experts will present the concept of the regional project and, together with the NBS team and its partners, will discuss the necessity of technical assistance that could be provided to the national statistical system. Subsequently, the findings made during this mission will be used to identify priority actions for the activities to be deployed during the implementation of the STEP program.
To be mentioned, that this year the 10th anniversary of the launch of the Eastern Partnership (EaP)is marked, a joint initiative between the European Union (EU), the EU Member States and the EaP. At the same time, 5 years have elapsed since the signing of the Association Agreement between Moldova and the EU, as well as the entry into force of the Liberalized Visa Regime with the EU. The Republic of Moldova has proved to be an active partner within the EaP, and during the 10 years since its launch, it has managed to achieve the three major objectives mentioned above.